2007 October Sky Festival
The 2007 October Sky Festival
was held October 6, 2007
in Coalwood, West Virginia.
This page has a few scenes from the Festival!
All photos are thumbnails. You may click on a photo to enlarge it.
Have photos of the October Sky Festival
you'd like to share? We'd love to have them!
Please contact Charlie.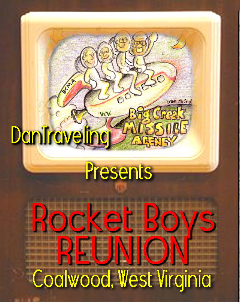 See the Dan Traveling Video on the
2007 October Sky Festival!
www.youtube.com/watch?v=lSw7LEvzcDA

Sign on U.S. 52 in Welch.

Part of a display from the National Park Service.

welcome sign in front of the church.

The CCRA sponsors the October Sky Festival.

A poster for Homer's new book was on display.

These two educators made the trip to Coalwood. Ryan Reed on the left, Ed Schwerkolt on the right, from Northview High School, Sylvania, Ohio.

Alex Schust shows off his new Coalwood book.

A McDowell County Sheriff's car leads off the 2007 parade.

The Coalwood Fire Department fire truck follows.

Teachers from Minnesota (on their fourth trip to Coalwood) dismount from the fire truck.

Channel 6 from Bluefield was on hand covering events today.

Astronaut Bill Readdy and author Homer Hickam arrive.

Homer Hickam and Scott Miles [who played Jim Hickam in the movie October Sky].

Homer Hickam

Roy Lee Cooke presents the 2007 Prodigy Foundation West Virginia Teacher of the Year Award to Katherine Manley.

Students from Virginia Tech staff a booth.

Students from West Virginia State University staff a booth.

T-shirts commemorate the 50th anniversary of the launch of Sputnik 1.

Lunch is available in the basement of the church.

A bounce house for the kids.

Homer poses for pictures ...

and signs autographs.

Scott Miles meets fans ...

and signs autographs.
Photos sent in by Judy Auricchio from Pinevelle, WV. Thanks, Judy!

(left) Katherine Manley, WV Teacher of the Year. (right) Grace Corrigan, mother of Teacher in Space Christa McAuliffe.

Red Carroll leads a prayer during the ceremonies.

The Rocket Boys: (l to r) Roy Lee Cooke, Jimmy O'Dell Carroll, Billy Rose, Homer Hickam

Judy's friend Jan and Homer Hickam

Scott Miles and Peggy Blevins

Judy's son Daniel

Watch Video
Click here to watch a 7-minute video of Homer Hickam and astronaut Bill Readdy addressing the crowd at the 2007 October Sky Festival. Homer and Bill are standing on the front porch of the Clubhouse in Coalwood. (10MB, opens in QuickTime.)
See more photos and videos from 2007!
Janet and Dan McCoig.
Ryan Reed and Ed Schwerkolt
Dave Hromanik
Elizabeth
Mike & Kim Daniels
Kathie Titus
Laura Booth took these photos during the 2007 October Sky Festival. Astronaut William Readdy is signing autographs in one picture; he is sitting at the table with the NASA group that brought the moon rock that was on display. One of the pictures is of Homer sitting on the church steps with a school group.
http://picasaweb.google.com/LauraLBooth27/OctoberSkyFestival02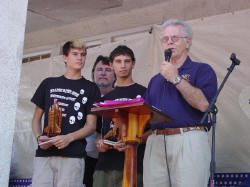 See Rocketman Photos
Jack and Kathy Colpas wrote:
"Dear friends of Coalwood,
The event was fantastic! The Florida Rocket Boys felt like homecoming heroes. Thanks so much for your effort. It was a terrific inspiration for all of the young minds that attended.
We will be coming back next year and bringing the new Reach for the Stars contest winners with us. To see the other photos - including the launches at Cape Coalwood, go to http://www.kodakgallery.com/I.jsp?c=b386mmi.6g19xw8u&x=0&y=-1sbcpm "
For more information on the Reach for the Stars contest, please visit this web site: www.therocketman.net


Below are the articles which appeared on this web site before the
2007 October Sky Festival.
October Sky actor to be in Coalwood, October 6, 2007!
For the first time ever, a cast member from the film version of October Sky will make an appearance at this year's event. Scott Miles, who portrayed Homer's older brother Jim Hickam in the movie, will be on hand to meet fans of the movie and "bring a touch of Hollywood to Coalwood", said event organizers. Mr. Miles has starred in several major motion pictures and television series in addition to "October Sky", including "Remember the Titans", "The Patriot" and "Star Trek-Voyager". Read more about Scott on the Internet Movie Database.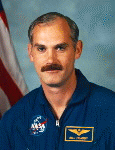 Former Astronaut Bill Readdy
Scheduled to be at the 2007 October Sky Festival!
Photo: NASA.
Read full press release about the 2007 October Sky Festival.
(Opens in Microsoft Word.)
International Space Station To Fly Over Coalwood!
Linda Hickam writes: "To help celebrate the October Sky Festival, NASA, the Russian Space Agency, and the laws of physics have agreed to fly the International Space Station over Coalwood, West Virginia, the night of Thursday, October 4, 2007 [Sputnik's 50th Anniversary] at 7:32 p.m. The International Space Station will also fly over Coalwood October 5 at 7:53 p.m., and again at 8:18 p.m. on Saturday night [the actual date of the 2007 October Sky Festival]. If there aren't too many clouds, we should be able to see it!!"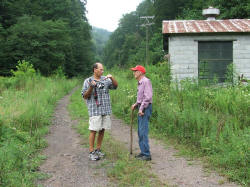 Old Photos and Home Movies Needed
If you have old photos or home movies of Coalwood, you can be a big help to filmmaker Steve Date!
Please click here for more information.
Reach for the Stars Winners
The 2007 Reach for the Stars contest has finished. They sent this press release: "We are thrilled that two of our young winners will be able to join us in Coalwood for the [2007] October Sky Festival to meet Homer Hickam and launch with you - the original Rocket Boys and astronaut Bill Readdy. We are as excited as the kids. (A short TV news clip is attached.) Go to http://www.bradenton.com/local/story/153229.html to see the newspaper article." For more information on the Reach for the Stars contest, please visit their web site: www.therocketman.net
9th Annual
October Sky Festival
Saturday, October 6, 2007
Coalwood, West Virginia, USA
The Ninth Annual October Sky Festival in Coalwood, West Virginia, will be Saturday, October 6, 2007, when Coalwood will also be celebrating the 50th anniversary of Sputnik. All the Rocket Boys plan to be there as well as former astronaut Bill Readdy. Readdy is a veteran pilot astronaut with three space flights, STS-42 (January 22-30, 1992), STS-51 (September 12-22, 1993) and STS-79 (September 16-26, 1996). Readdy has logged over 672 hours in space. See Bill's NASA biography. Note: all general times and information for the October Sky Festival remain the same year-to-year. Please scroll down for details. We hope to see you in Coalwood!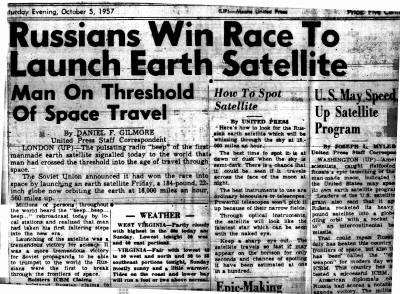 Welch Daily News front page, October 5, 1957
Clipping courtesy of Eleanor Beckner of the McDowell Public Library
2007: The 50th Anniversary of the Launch of Sputnik 1
Click here for more information on Sputnik 1
and to read the entire Welch Daily News front page from October 5, 1957