Hotels
Note: Bluefield, West Virginia and Bluefield, Virginia are approximately 1 to 1.5 hours from Coalwood. We haven't stayed at any of these hotels except as noted below. We would appreciate reviews from anyone who has stayed at any of the others (or if you know of any motels we have not listed.) Thanks.
Landgraff, West Virginia
Elkhorn Inn
On U.S. 52 between Eckman and Kimball
A bed and breakfast that's popular with rail fans.
http://www.elkhorninnwv.com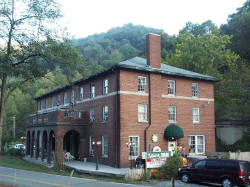 The Elkhorn Inn. That's U.S. 52 in front of the hotel. Just to the left of U.S. 52 is the double-track Norfolk Southern railroad.
Keystone, West Virginia
Fair Haven Ranch (B&B)
Joyce Brown, Owner
Keystone, West Virginia
Phone: 304-862-4025 or 540-775-5500
Web Site: http://fairhavenranch.com
We have had several visitor groups stay with us for your festival in October. We now have 4 houses furnished with queen beds and some twins, all with two full bathrooms, large equipped kitchens, living rooms, wide decks for viewing the West Virginia mountain terrain.
We are located on a 100-acre Ranch up on Burke Mountain, just above Keystone and Northfork, which is 18 miles from Welch, off Route 52. Turn in Keystone at the railroad crossing for Burke Mountain Road and make a U-turn at the tracks. Proceed up the paved road for State Route 6 or Burke Mountain Road for 2.8 miles to the very top. At a large grassy or gravel pile intersection, take the first left onto a wide coal road. Proceed 1.7 miles to entrance of Fairhaven Road, which will be the 3rd gravel road on your right. Drive o.5 miles up our driveway to the ranch complex.
We have 5 houses to rent for visitors to McDowell County, and we have hosted Coalwood Festival visitors, ATV rider groups, and church mission groups. Our happy guests have returned for three and more years to enjoy the West Virginia trails and beauty in all four seasons. We have two horse barns, if anyone wants to bring his own horse or ATVs, mountain bikes, or boots for hiking. Please see our website for rates and accommodations. We also have three RV sites with 30/50 amp hookups, and water. No septic dump. We have an indoor pool house and conference room for family reunions or corporate gatherings. There is plenty of room for tents or primitive camping. Most people do choose the houses, however, with comfortable beds, and showers. The complex has 12 streetlights once you get onto the property. As the Burke Mountain road and Thompson's Extension are not lighted, please call if you are arriving after dark. It is West Virginia, and in coal mining territory. Almost Heaven, however! Meals can be arranged upon request.
Bluefield, West Virginia
Economy Inn
3206 East Cumberland Road
Bluefield, WV 24701
304-325-9111
Knight's Inn
3144 E. Cumberland Rd.
Bluefield, WV, 24701 US
304-325-2200
www.ramada.com
Holiday Inn
3350 Big Laurel Hwy.
Bluefield, WV 24701
304-325-6170
www.Holiday-Inn.com
Econo Lodge
3400 Cumberland Rd.
Bluefield, WV 24701
304-327-8171
www.EconoLodge.com
Dian-Lee House
2109 Jefferson Street
Bluefield, WV 24701
304-327-6370
A beautiful bed and breakfast whose rooms are filled with antiques.
www.dianlee.com
Kish Mountain Retreat
417 Woodside Drive
Bluefield, WV 24701
304-320-0206
A bed and breakfast with a good deal of parking space out back for RVs.
www.kishmountainretreat.com
Bluefield, Virginia
Comfort Inn
38769 Governor G C Peery Hwy.
Bluefield, VA 24605
276-326-3688
www.ComfortInn.com
Review sent in by Charlie Myers: This motel is about nine miles south of I-77 exit 1 in West Virginia. (The exit is in West Virginia; the motel is in Virginia.) It's out in the middle of nowhere, so you'll need a car to drive at least five miles to restaurants, etc. It's a typical motel with a helpful staff and a good continental breakfast. Note: they have recently had an area-code change. The old area code was 540.
Bramwell, West Virginia
There are several B&Bs in the historic town of Bramwell, which is located just south of U.S. 52 between Bluefield and Welch.
Main Street Suites
Main Street
Bramwell, WV 24715
304-248-7414.

Pamela's
Main Street
Bramwell, WV 24715
304-248-7328.
The Painted Lady
S. River St.
Bramwell, WV 24715
304-248-7278.

The Perry House Bed & Breakfast
Main Street
Bramwell, WV 24715
304-248-8145

The River's Bend Bed & Breakfast
211 S. River St.
Bramwell, WV 24715
304-248-8543 or 304-248-8528
Princeton, West Virginia
Princeton is located at exit 9 of I-77.
Comfort Inn
Rt. 460 & Ambrose Lane
Princeton, WV 24740
304-487-6101 or 1-800-228-5150
Website

Days Inn
I-77 & Rt. 460
Princeton, WV 24740
304-425-8100 or 1-800-DAYS-INN
Hampton Inn
277 Meadowfield Lane
Princeton, WV 24740
304-431-2580 or 1-800-HAMPTON
Review sent in by Charlie Myers: This is an older Hampton Inn, so the rooms with two beds are a little cramped. Other than that, it's a nice motel. Great breakfast, friendly staff, lots of restaurants within walking distance.

Holiday Inn Express
Oakvale Road
Princeton, WV 24740
304-425-8156 or 866-425-1540
Sleep Inn & Suites
1015 Oakvale Rd.
Princeton, WV 24740
304-431-2800
Website

Super 8
901 Oakvale Rd.
Princeton, WV 24740
304-487-6161 or 1-800-800-8000